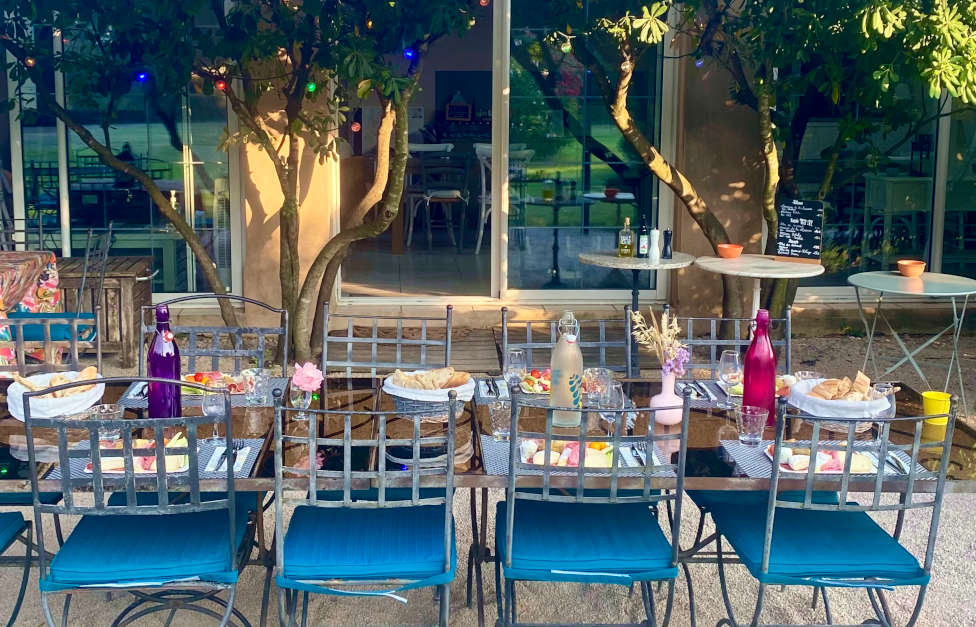 The Table d'hôtes
The dinner is served from 7.30 pm once a week (in general every Friday) on reservation (at the latest 24h before).
For friendlissness, a minimum of 6 guests is required.
It is taken at a common table and is composed of 3 dishes: apetizer, starter, main course, dessert, coffee/tea and drinks : Local wine.
Prices : 35€ per person, 29€ without alcohol and 15€ for child less than 10 years old.
And it is with great pleasure that Aurélie offer you a taste and colorful variation around the fresh products offered by Provence in every season. We are working with our organic fruits, vegetables and aromatic herbs from our garden and local partners and quality products from reasoned agriculture and certified products. Our dishes are homemade.
A few examples of our menus :
Candied tomatoes "tatin" pie ,
Thym and Rosemary chicken with petit epeautre rissoto,
Cherries (from our garden) clafoutis.
In addition, we offer every Tuesday evening a pique-nique with a formula with a board of selected cheeses, cold cuts, anchoïade, vegetables, bread and a homemade ice cream available on your garden table. Price: 22€ per person.
There are many restaurants around Les Fleurs d'Hilaire : there are good and very good ... we will help you select a few. Food lovers will not be disappointed. Here are a few selection : Restaurants recommandés et à proximité des Fleurs dHilaire
Summer kitchen
Facilities, a small summer kitchen for the guests with refrigerator, freezer, Nespresso coffee machine and microwave: you can prepare your picnic day for walks or enjoy good products offered by our markets! Free coffee and tea available. We also are seeling on site local wines, snacks, drinks and ice-creams.
The breakfast will be served from 8.30 to 10.00 am under the pergola or in the veranda depending on the weather. You will taste coffee, chocolate or a large selection of teas, our homemade jams often cooked with the fruits from the garden (figs, plums, apricots...), bread and pastries from the baker, cheese, cereals, fruit, fruits juices and homemade cake different every day.
Here is an example of a breakfast served in our veranda on our You Tube channel :